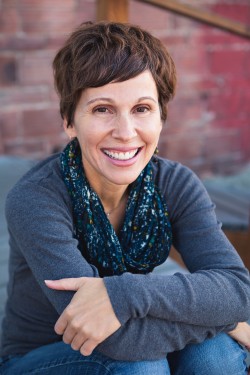 When I first started on this eyesight healing quest in early February 2013, I was at the lowest point in my life.
After waiting for six months to see a retinal specialist because I'd heard she was starting stem cell clinical trials, I was told that RP was an orphan disease and was too low on the priority list to receive funding to take promising research to the next level. Then she confirmed what I already knew – that my vision was down to three or four degrees of central vision with a strip of blurry vision in my outer pheriphery – and told me I had cataracts forming. Like every other eye doctor I'd visited, she said there was nothing I could do to save my eyesight and indicated I had only a few years left to see.
I cried for two days straight and then decided I was done with "no hope" and was going to fix my eyesight myself through naturopathy and specialized acupuncture.
It's been a year and a half and instead of getting worse, my eyesight has improved. I now have so much peripherial vision that I recently played tennis with my daughters. I still have a donut of blindness around my central core – but it's shrinking and I no longer worry about going blind. I know that if I keep doing what I'm doing, I'll continue to see.
I feel like I've been given back my life. And I'm now on a quest to help others dealing with a degenerative eye disease say "NO" to "NO HOPE" and take charge of their eye health.
On Tuesday, September 23rd I'll be leading a free eye health workshop at Des Moines Library in the Seattle area. The workshop is being supported by an artist grant I received from 4Culture. If you know anyone who might benefit, please share this blog post with them. Here's to our eyesight – and our overall health.
From Powerless to Empowered: Five Secrets to Taking Charge of Your Eye Health
When:

Tuesday, Sept. 23rd at 6 p.m.

Where:

Des Moines Library -21620 11th Avenue S  206.824.606
Refusing to accept that there was no hope or cure for her degenerative eye disease and that she would soon be completely blind, author Ingrid Ricks decided to take charge of her eye health through a holistic approach that integrates naturopathy and Chinese medicine. Ricks will share her journey from victim to eye health advocate, read a short piece from her memoir in progress, and discuss the five things she's been doing to maintain and improve her eyesight. She will also demonstrate simple eye exercises and acupressure points that have been proven to benefit eyesight.
Ingrid Ricks is an author, eye health advocate and teen mentor. Her memoirs include The New York Times Best Seller Hippie Boy and Focus, a memoir about her journey with the blinding eye disease Retinitis Pigmentosa. She is currently working on a memoir about her quest to save her eyesight, and is blogging about her journey at www.determinedtosee.com. Ingrid's work has been supported by a 2014 Grant for Artist Projects.