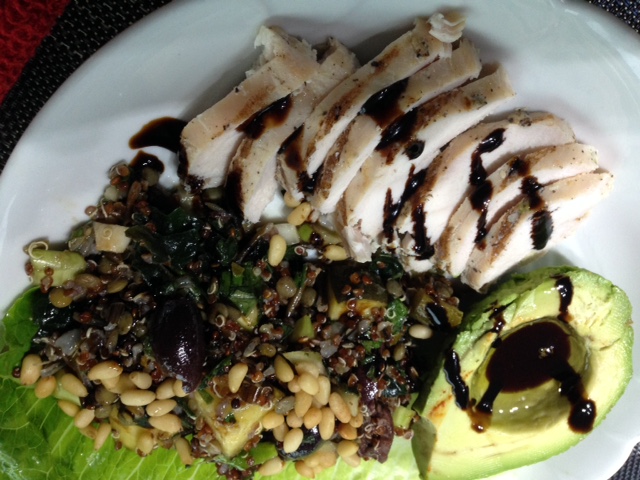 My friend, Claire Thornburgh, is a fabulous cook who is living proof that life can still be enjoyed incorporating an anti-inflammatory diet. She's generously agreed to share some of her favorite recipes with all of us on a regularly basis– starting with her Quinoa Chop Chop Salad.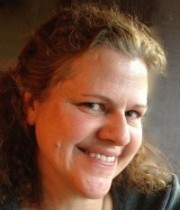 Claire: This is a favorite in or household—lots of texture from quinoa, wild rice and all the crunchy vegetables, plus lots of flavor from the herbs (don't skimp on these!), and the vinaigrette. We like to serve it with some avocado slices, some nuts and whatever extra protein we have on hand. We buy everything organic. I also cook a much larger amount of the legume/seed base and freeze portions to save time later. Notice that I don't add peppers or tomatoes, because of their inflammatory properties, but I'm no expert on the best ingredients, health-wise.
All ingredients are optional and proportions completely changeable. Leave out, substitute, season to your taste. The base of the quinoa, lentils and wild rice is where we start, but you could easily put in chick peas, or another legume, leave out the expensive wild rice, put another "seed/grain" of your choosing. If you love raw onions or scallions chop some in, or you've got a crop of fennel you need to use up—in it goes. I try to add vegetables or fruits that won't discolor too much since we munch on this for several days. My chopped vegetables generally exceed in bulk the amount of the cooked legumes and seeds, which I'll call "grains" for simplicity.
I love the flavor of the "italian" version with olives, zucchini, basil, oregano and garlic (along with the basic ingredients that I always put in: celery, kale, parsley, chives). I sprinkle pine nuts on it before serving. A quinoa tabouleh is pretty common these days, with mint and cucumber. I once added some Vegenaise mixed with curry powder in a version with grapes. That was good. I'm planning to try a "Thai" version with cilantro, basil, cucumbers and chopped peanuts. The vinaigrette will need some white kind of vinegar, fish sauce and lime instead of lemon.
This recipe is a sample to get you started.
Quinoa Chop Chop Salad
Ingredients:
1 cup quinoa
! cup lentils—I prefer the french green or the "caviar" for being little
and less mushy
1/4 cup wild rice
1/2 cup chopped broccoli stems (These keep better than broccoli flowers in the salad and add a nice crunch. Remove fibrous peel. We use the flowers in stir-fry or juice.)
1/2 cup chopped celery
1/2 cup chopped cucumber
1 cup chopped kale, collard or other greens (I like the greens chopped pretty fine. About 1/2 inch)
1/2 cup chopped fresh parsley
1/4 cup chopped fresh chives
1/2 cup chopped fresh cilantro, and/or tarragon, and/or basil, and/or oregano and/or 1/4 cup mint
1 cup halved kalamata olives, or 1 cup halved red grapes
2 zucchini, (quarter lengthwise, toss with avocado oil or olive oil and roast under the broiler for a few minutes until they just begin to brown), cut into 1/2" slices
2 cloves garlic—I prefer mine lightly cooked, so peel them and throw in with the cooking lentils for a few minutes, then chop
Vinaigrette:
1/2 cup avocado oil or olive oil
juice of two lemons
1 tablespoon good mustard (dijon, or, my favorite, with tarragon, available at some markets)
1 tablespoon honey, a bit of stevia or other natural sweetener (again, optional)
1 tablespoon balsamic vinegar.
Salt and pepper
Optional ingredients to add before serving:
pine nuts
pumpkin seeds, sesame seeds
avocado
feta, parmesan, mozzarella or other cheese
cooked meat
Instructions:
Since you'll want the "grains" cold, cooking them is easy, like pasta—no measuring, just put each in a pan with plenty of water and simmer on med/low heat, stirring occasionally. Note, however, that dry food like this sometimes is not perfectly sorted before going to market. I have had the occasional gritty bit. So rinsing and sorting is usually recommended. Eliminate this step at your own risk—I at least do a cursory visual sorting as I add the ingredient to the water.
The wild rice is hard to overcook—it'll take over 30 minutes to get done enough. When the white insides start to show, I let it cook about 15 more minutes.
Cold lentils, on the other hand, taste best if they're just cooked enough, and they don't take as long as you'd think—as little as 15 minutes depending on the size. Keep tasting until they are tender enough—not crunchy, but not mushy. If I overcook the lentils, they go into the next batch of soup, not in salad.
The quinoa is also quick to cook. To save on pans, I cook the wild rice in a larger pan with extra water. When the white begins to show I add the quinoa. In 12-15 minutes they both are ready. The quinoa has little white "tails" that separate when it is nearly done.
Cooking the base ingredients is all about tasting (and not boiling over).
Drain the "grain" in a sieve and run cold water over it until it isn't hot anymore. Drain well.
Place the vinaigrette ingredients in a large bowl and mix.
Add the "grains" and all the other ingredients and mix thoroughly.
If there is not enough dressing for your taste, just mix a little more and stir it in. If you are experimenting with new flavors, just put in a little at a time. Keep tasting.
Serve heaped on an avocado half, or as a side dish to a more traditional meal. Sprinkle with nuts or cheese, a swirl of balsamic glaze or more herbs. Throw on some chunks of tofu or chicken or smoked salmon. If you had the salad for lunch yesterday and want a different flavor, mix up a little mayo, sour cream or Vegenaise with a bit of curry and stir it in your portion today. Let your taste buds and dietary needs guide you.
Keep tightly covered in the refrigerator. Stir to distribute dressing before serving.