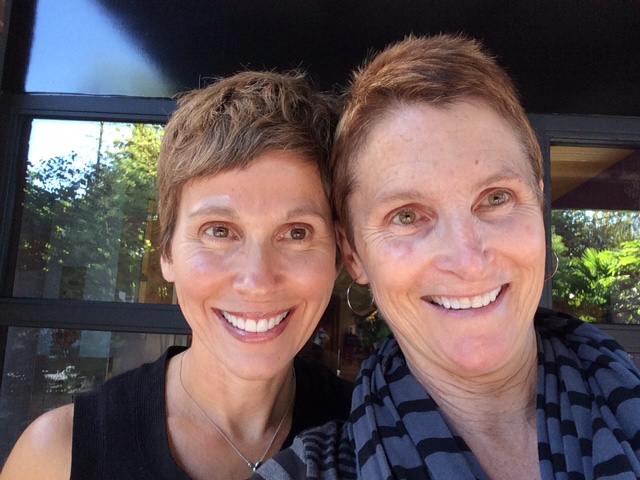 Jeanne's Take
Where to start? At the beginning of course. I met Ingrid at a low point in my RP journey and it's safe to say that what I read in her blog changed my life. While researching the ever-elusive "cure" for RP, I stumbled on Ingrid's adventures with acupuncture and knew I had nothing to lose.
Like many of us who have experienced target-based acupuncture, my first two weeks of treatment put me leaps ahead of where I started on virtually all fronts; night vision, visual field, contrast, etc. Jump-starting those dormant cells so boosted my morale that I contacted Ingrid personally to thank her for putting her message out there. And thus a partnership was born.
Ingrid and I had similar contemplations regarding acupuncture – if two weeks of eye-based acupuncture could yield such positive results, what could be gained by weekly treatments of whole-body needling? We gave ourselves six months to test the results of this symmetrical style of healing; I'm delighted to report they've been a game changer.
And I've learned a few things along the way. To wit…
 Acupuncture is for life. A weekly session of traditional Chinese medicine in the form of acupuncture benefits your eyes and so much more. Acupuncture encourages the whole body to work in unison in order to cure. This was our theory and it has borne countless upshots, from a wider visual field and steady maintenance (or even improvement over the original push) to extinguishing the fear, stress and anxiety that are an inherent measure of our condition.
 Attitude is King. We all experience the frustrations of any number of symptoms and they are legion. There are a variety of coping mechanisms but none more crucial than a positive outlook. The world can deliver incomprehensible tragedies; on occasion the imminent loss of sight feels like one but it doesn't have to. Turn a needlessly dark restaurant into a playful sensory expedition – each bite a savory surprise (do you really need to see what you're putting into your mouth?) If nothing else, I've learned that worry and defeat get me nowhere – not good for my health, not good for my family, not good for my sight.
 Health and well-being. Herbal enhancements help and only you can determine the balance that's right for you. Fish oil, Lutein, Turmeric, Astaxanthin, and TUDCA among others are known for their healthful eye properties. The trick is to work these enhancements into a healthy diet without letting them take over. It didn't take long for me to discover that three sets of pills a day was cramping my style; as I endeavored to turn focus away from the negativity of my diminishing sight it was clear that the jumbo pill dispenser wasn't cutting it. RP isn't an illness – take what you need, take it when it suits you and get on with it.
 Exercise. Cardio, swimming, biking, hiking. In the immortal words of you-know-who Just Do It! Fire up some tunes and dance like a maniac for ten minutes a day. Daily stretching and yoga keep me flexible and grounded – a headstand a day keeps the doctor away!
 Strength in Numbers. I've gained two enduring friendships from my battle with RP – lovely compassionate women whose company I treasure and whose solace I seek. The slings and arrows of their affliction are dissimilar yet so comparable to my own. An eye opener in and of itself – Retinitis Pigmentosa affects everyone differently but its bonds run deep.
The bottom line is crystal clear. Stay strong, maintain the fight and continue to believe. In yourself, in continued support of family and friends, and in your beautiful, inimitable eyes.
Ingrid's Take
When I think about my journey over the past six months, the word that comes to mind is Empowerment.
I still have RP, still struggle to find my way up and down stairs or through a crowded restaurant, still see very little in the dark. But thanks to this informal acupuncture study with Jeanne and a continued focus on whole body health, I'm convinced I've found an affordable, accessible, balanced way to maintain and even improve my eyesight.
Since first incorporating acupuncture treatment more than two and a half years ago, I've experienced significant gains in my outer periphery. What hasn't changed is my central visual core – at least not in a way that I can detect with my real-world tests. But that, in itself, is huge for me because after years of steady decline, it hasn't gotten worse.
What I know for certain at this point is that our eyes are connected to everything else in our body and that when we take care of our bodies both physically and emotionally, we are also benefitting our eyes.
For me, this means eating a healthy, anti-inflammatory diet, taking vitamin and mineral supplements (see Jeanne's list and add liquid minerals and Vitamin D), limiting my alcohol intake, doing daily cardio/strength training exercises, avoiding stress, maintaining a positive attitude, and enjoying life to the fullest.
It also means regular eye exercises and acupuncture.
I view acupuncture as a way to help keep my body in balance and increase oxygen and blood flow to my eyes. It also relaxes me and has been amazing for my mental health. Like Jeanne, I plan to continue acupuncture with my local acupuncturist for the long term because I know it's helping me.
As Jeanne mentioned, a positive outlook and belief in our eyesight and ourselves are key in this fight. My secret?  Surrounding myself with a few amazing, newfound friends who exude positivity, strength and an incredible sense of humor as we tackle this eyesight saving journey together.