Jeanne's Take:
Ingrid Ricks is my RP partner in crime and the person who has made this journey not only tolerable but gratifying. We all need someone who understands the struggles firsthand and who opens up their ears and their hearts when you need it most.
Of course there's more to life than RP; a fact we are living with every day of the week and every week of the year. My RP buddies are precious to me, but how could I survive the daily battle without my life partner, gold star and my rock; my husband Larry.
Eye disease is not a solitary activity – it doesn't lend itself to the brand of autonomy we seek to hold dear. We need help – be it physical, emotional or plain old "second sight". A broad shoulder to cry on, someone to co-share the humor of our periodic falters and face plants, and a pair of eyes focused the right way on the right things at the right time.
My husband is that person; he wears the RP partner badge with surprising aplomb and a steady measure of pride. He allows me the luxury of moving through the world knowing I have support when I need it while allowing me my independence when I can't tolerate the inevitable alternative.
Most importantly Larry has managed to turn the ultimate lemon – my sight – into lemonade; from the genius idea of buying a tandem bicycle (that we ride virtually everywhere) to turning strenuous eye acupuncture trips into spirited mini vacations. My man is a marvel!
I took an informal poll of RP partners and their voice is united – they worry, they try to strike the necessary balance and they do what they can to grease the wheels of protection and encouragement.
Not an easy row to hoe; indeed our RP partners are our unsung heroes. They didn't ask for this any more than we did, but they sustain and persevere for better or for worse. I am indebted to mine – how about you?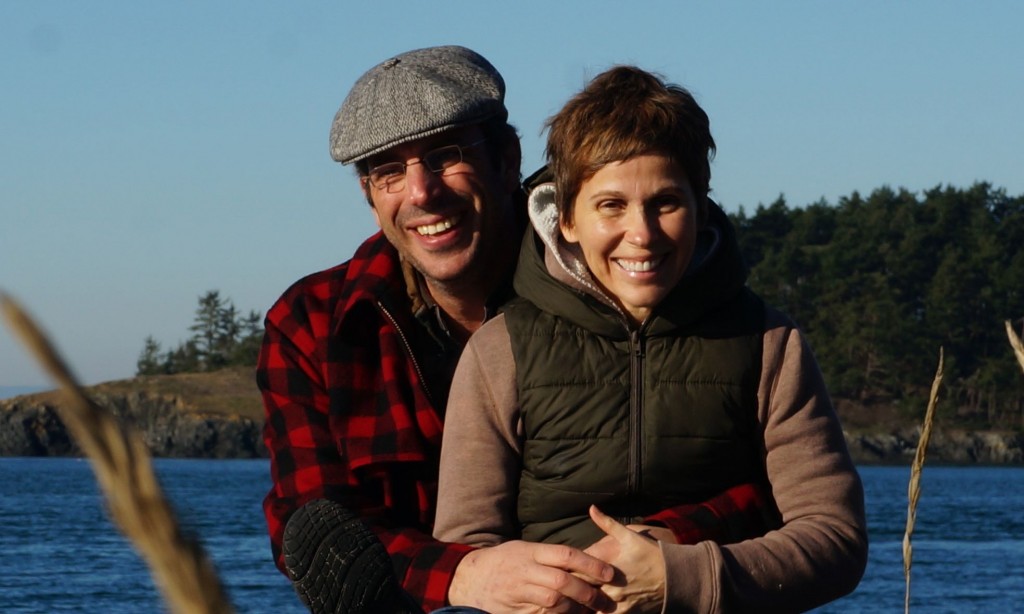 Ingrid's Take:
The day my RP diagnosis was confirmed wasn't pretty. I remember arriving home, making a beeline for the fridge and pouring myself a water-size glass full of Chardonnay—which I immediately started guzzling in hopes it would block out the terrifying thoughts raging through my mind.
Then I felt a hand on my shoulder and heard John's steady, unwavering voice.
"We'll get through this," he said. "We've got each other  and whatever happens, we'll make it through."
As I'm sure all of you have experienced, the down days with this eye disease can be tough. But with each belly flop over a dog or sign, each crash into a corner wall or cement post I didn't see, John has been there to pull me up and patch me up—both physically and emotionally.
I'm so fiercely independent that learning to lean on him hasn't been easy. In fact, most of our challenges over the years have been caused be me trying to go it alone rather than remembering that this eye disease impacts John's life in a huge way too and that we are, in fact, in this together. Like Jeanne's husband, Larry, John has become my second sight in the dark, and a huge support system day in and day out. He is there to take my hand in dim light and crowded stores, and to gently remind me that despite my eyesight issues, I can still see, that it could be a lot worse and that there is more to life than eyesight anyway. He also reminds me of all I've got to be grateful for. That list is too long to post. But at the core, it comes down to him, our amazing daughters Sydney and Hannah, a great network of friends (thank you Jeanne for navigating these RP waters with me), walks on the beach, family poker nights, and daily morning coffee and conversation with John.
This past week I've experienced another health scare— a kick in the gut that put my RP struggle into perspective, reminded me that every day is a gift, and reiterated that all any of us has for certain is Now. And like always, John has been by my side.
Life is a roller coaster with unexpected turns and twists and ups and downs. But what I know for certain is that John's got my back and I've got his. And that whatever comes our way, we'll get through it because we're going it together.