I felt powerless when I started my journey to heal my eyesight in early February. After yet another visit with a top retinal specialist who told me I had no control over the progression of my Retinitis Pigmentosa, I was convinced that my only hope for eyesight rested in the hands of Dr. Weidong Yu and the acupuncture and Chinese herbs he uses to treat Retinitis Pigmentosa.
Now, eleven weeks in, I've realized that the TCM treatment offered by Dr.Yu — which I view as the critical central element — is still only one important piece of the puzzle. It's finally hit me that there is plenty I CAN and MUST DO on my own if I want to maintain and improve my eyesight. It all comes down to diet, lifestyle and fitness.
 It's not that I haven't heard this before. It's just that I'm now finally listening to what I first heard from Dr. Damon Miller and am now hearing from Dr. Yu: that my eye disease is a symptom of bigger issues in my body. And that if I address my whole body health, I can help heal my eyesight.
When I first began exploring alternative treatments for Retinitis Pigmentosa five years ago, I started on the Better Eye Health program offered by Dr. Miller.  He's a board-certified M.D. who added naturopathic medicine to his practice after watching patients become dependent on pharmaceutical drugs and seeing the adverse side affects. Dr. Miller's eye health program is an intensive home treatment program that includes acupressure, eye exercises, color lamp therapy, micro-current stimulation and a variety of vitamins and mineral supplements.  He also focuses on stress reduction and digestive health.  But at the core of his practice is diet and nutrition.
 I started on the home treatment program but I didn't do it consistently—especially the acupressure and eye exercises because it just felt like a lot of work. And as much as I told myself I wanted to be healthy, I didn't want to give up my processed foods, coffee, wine and meat.  Aside from incorporating spinach into my diet, I didn't even really boost my intake of vegetables.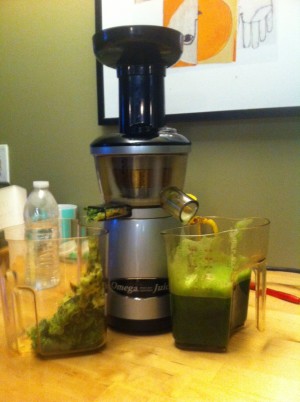 Though I had read that inflammation and poor circulation were significant drivers of RP, I didn't understand that the foods I consumed daily actually caused inflammation and poor circulation.  Now, after my own research and hearing the same messages from Dr. Yu, I finally get it: if I want healthy eyes, I need to be healthy all the way around.
Since February, I've been adamant about daily green juicing, avoiding processed foods and sodas, and eating a plant-based diet. I've also been serious about doing my eye exercises and acupressure daily, and about drinking the Chinese herb tea prescribed by Dr. Yu, following by the relaxation and meditation he recommends. I continue to take the Lutein and Bilberry supplements I've been taking for years. Recently, I've also incorporated strength training into my exercise routine to increase my muscle mass and core body strength because Dr. Yu rightly pointed out that my overall body constitution and immune system is weak.  In addition, I've completed eight days of Dr. Yu's intensive acupuncture and Chinese herbal treatment.
I don't know what role each of these is playing individually. But I do know that I'm beginning to notice small but significant improvements in my eyesight. Areas in my mid-periphery (on both my left and right side) that were once blurry are now becoming clear. And I now have small patches of vision in my lower periphery where I once had none.  For example, I can see the tips of my feet when I walk and can see the tops of my knees when I'm walking up or down stairs.
My Life Before
Wake up at 6 a.m.
Breakfast: Two cups of coffee and two boiled eggs
Get daughters off to school
Morning Break: Double Shot Hemp Mocha at Coffee Shop
Lunch:  Grilled turkey/cheese sandwich, salt & vinegar potato chips, Diet Coke
Afternoon workout: half-hour cardio three or four times a week
Dinner (choose one):  Tacos – hamburgers – Pizza – Grilled Chicken – Tater Tots Smothered in cheese – throw in some steamed broccoli or a spinach salad and call it good.
Glass of Pinot Gris (average one a day)
Bedtime – 10:30 p.m.
*At least eight hours of screen time (reading, writing, texts, emails, and TV each day)
My Life Now:
Wake up at 5 a.m.
Half-hour Jillian Michaels workout (strength, cardio and abs circuit training to strengthen my body core).  My 14-year-old daughter, Syd, does it with me – I'm discovering a good support system is KEY.
Breakfast:
Large glass of filtered room-temperature water (I now avoid cold beverages all together based on Dr. Yu's advice)
Large glass of fresh green juice: kale, celery, cucumber, green apple (sometimes spinach and broccoli stems as well)
Two boiled eggs
7 a.m.  – Acupressure and Eye Exercise
7:30 – Chinese Herb tea/meditatio
Daughters to schoo
Morning break – Double Short Hemp Mocha or peppermint te
Lunch:  veggie sandwich or salad with room-temperature wate
Afternoon Workout – half hour cardio three times a week
Dinner (choose one) ALL freshly made: Salmon & spinach salad–vegetarian tortilla soup–chunky vegetable soup–vegetarian quesadillas–stir-fried vegetables and brown rice–Greek salad
Evening: acupressure, eye exercises, Chinese herb Tea, meditatio
Bed Time: 10 p.m.
Glass of red wine (twice a week)
*Limit 4 -5 hours of screen time (reading, writing, texts, emails, and TV each day)
As a side note, I've finally gotten around to ordering my eye tests from my January 30th appointment with a retinal specialist. I'll post those as soon as I receive them, and plan to use them as my baseline to compare with the eye tests I will do in early February 2014.