My husband and daughters have always been a great support system and recently joined me in my get-healthy quest—which includes daily green juicing, reducing processed foods and eating lots of fresh fruits, vegetables and fish.  My daughter, Syd, has even teamed with me on a new daily cardio and strength training routine so I can increase my overall body fitness.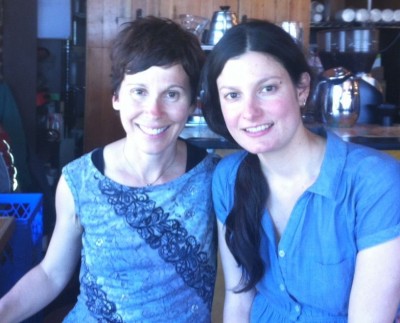 But I was going it alone on the eye treatment front until this weekend, when my new friend, Francisca, came to hang out for the weekend.
Francisca and I met last month at the Wellspring Clinic in Vancouver, Canada, where we are both receiving acupuncture treatments for our Retinitis Pigmentosa. Like me, Francisca is committed to doing EVERYTHING in her power to improve her eye health. She even moved from Chile to Vancouver just so she could access the treatment provided at Wellspring.
While together, the two of us made a commitment to help each other stay on track with diet, lifestyle, fitness, eye exercises, acupressure, Chinese herb tea, deep breathing and meditation. And just knowing that Francisca is going through this with me is a huge help.
We kicked off each morning with a tall glass of room-temperature water, followed by a large glass of fresh green juice (kale, cucumber, celery, green apple).  We then ate boiled eggs, drank our Chinese herb tea and did our acupressure and eye exercises. At the end of the exercises, Francisca even added an additional exercise for us that involves cupping our eyes while meditating and concentrating on deep breathing.
During long walks to the beach, the two of us discussed different things we are doing to maintain and improve our eyesight. Francisca takes a variety of dance classes to stay in shape and ensure a strong body core. She has also stopped drinking alcohol and is taking a liver tonic to help strengthen her liver. I'm trying to stop drinking wine and have just placed my first order of TUDCA, a synthetic form of bear bile that has been used in Chinese medicine to heal blindness. It's a liver detoxifier that is thought to reduce toxins in the eyes.
Each night before bed, Francisca and I repeated our eye exercises, acupressure, Chinese herb tea, meditation and deep breathing.
I'm not going to sugarcoat it—this new "heal my eyesight" quest is a lot of work. But I know it's helping my eyes. And with Francisca as my partner, I know I'll stay on track.  For those of you following this blog who are also on a healing quest, I highly recommend finding a partner who can accompany you on your journey. Because when discouragement and exhaustion set in—getting that little nudge and encouragement can make all the difference.