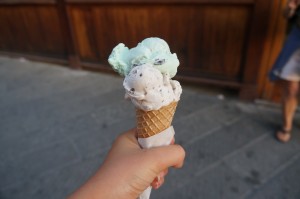 While my daughters did some rock jumping into the Mediterranean and my husband slept in the sun yesterday, I immersed myself in Kris Carr's Crazy Sexy Diet, a must-read for anyone dealing with RP or any other serious health issue.
Kris Carr is a cancer survivor and self-named Wellness Warrior who turned to a vegan, raw vegetable and fruit-based diet to combat her disease and is now leading the eat-healthy charge for anyone determined to take control of their health.
 I first bought her book six months ago when I told a friend I needed to start eating more leafy greens. She turned me onto green juicing and Carr's 'Kale, Celery, Cucumber, Green Apple Juice' that has become part of my daily regime at home.
I feel so good when I'm juicing and eating my new plant-based alkaline-rich diet that I actually considered bringing a juicer with me on this trip.  My husband convinced me it wasn't feasible given all the train jumping we're doing (he was right).  But it's amazing how different I feel eight days into my Italy diet of pizza, pasta, gelato, coffee and wine.
I should insert a side note here about the food allergy testing I did a month ago. I'll write more about it later but I'm supposed to stay away from wheat, tomatoes and sugar. Hmm… no wonder I'm feeling a bit sluggish.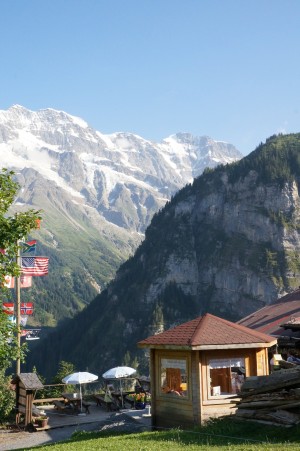 Reading Carr's book yesterday was a reminder of just how crucial my diet is to my overall health and healing process. Just before leaving for this trip, I interviewed Dr. Damon Miller, a board-certified MD and Naturopath who treats RP and other serious eye disorders utilizing a comprehensive home-based self treatment program that includes acupressure, eye exercises, color lamp therapy, micro-current stimulation and nutritional supplements. But his core emphasis is on diet and lifestyle.  I'll post an in-depth interview with him when I return home in a couple of weeks. But his message mirrors Carr's message: if you want to reverse disease and promote healing in your body, drop the Western way of eating and get back to how our ancestors used to eat.  When I asked Dr. Miller what he recommends diet-wise, he quoted Michael Pollan.  "Eat food. Not too much. Mostly plants."
He also added this quote from a woman who spoke out against the processed food movement in the 1950s. "If you want to end up in a box, eat from a box."
Okay—logging off for now. I'm now high up in the Swiss Alps, sitting on a deck overlooking the most stunning mountain glaciers.  And yes, I'm having a beer (though I've had a big salad today, as well as some blueberries, and pumpkin soup — and I'm cutting back on bread so feeling a bit better).
P.S.  A lot of you have been asking about the orange algae, TUDCA and other things I've been taking and doing. For more information on all of it, please check out my RP Treatment Resource Guide.