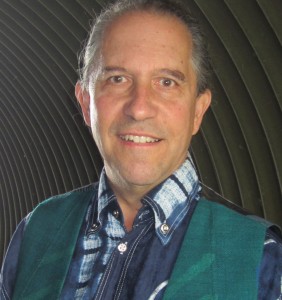 I first met Dr. Damon Miller six years ago, when I traveled to California to meet him and start on his Better Eye Health Program — a home treatment program which includes eye exercises, acupressure, color lamp therapy, micro-current stimulation, stress management and a variety of vitamins and minerals. Dr. Miler, who is a board-certified MD, naturopath and acupuncturist, has been treating degenerative eye diseases for the past twenty years employing a whole-body health approach. He helped me recognize the correlation between emotional trauma/stress and degenerative diseases — as well as the huge connection between diet, nutrition and Retinitis Pigmentosa.
He recently published a new book, Stem Cells to Heal Your Eyes, that is free on Amazon through the end of today. Here's a link to the FREE eBook and below is the book description. Though I've not yet read it, I highly respect Dr. Miller and know that his knowledge and insight can benefit all of us. I plan to delve into it this weekend. And for those of you who are interested, here's a link to an interview I did with Dr. Miler last year about the connection between diet and Retinitis Pigmentosa.
Stem Cells to Heal Your Eyes: Prevent and Help Macular Degeneration, Retinitis Pigmentosa, Stargardt, Retinal Distrophy and Retinopathy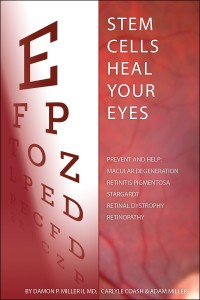 A physician and pioneer in the integrative treatment of serious eye diseases such as Macular Degeneration, Retinitis Pigmentosa, Stargardt and other retinopathies reveals the best strategies used today to prevent and reverse these devastating diseases. Drawing on some of the hottest topics in modern medicine, the book discusses the surprising revelations from the research in Epigenetics and adult stem cells. Your genes are not your destiny.
From our work with thousands of people, we understand that you might be fearful that you will lose your independence or your ability to do even the simplest tasks because serious eye disease is taking your sight. This book empowers you with simple tools that combat degenerative eye disease. Tools that support a healthy lifestyle and methods to remove damaging stress from your day to day life. You will find ways to transform fear into action, so that you can move forward in your life.
Instead of fear you will begin to have control. You can have the ability to drive again, see your grandkids again. The book presents techniques drawn from over 30 years of working directly with these diseases that over and over again show something can be done to slow and reverse these challenging issues. Along with these techniques it features real life stories of success from people who were in the same place as you might be right now. You are not alone in this experience. There are thousands of others who walk the path with you.
Feel like you don't quite understand the components and causes of eye disease, let alone how they can be reversed? By reading this book you will better understand the root sources of these challenges and how healing occurs. Knowledge is power after all and this book is here as your resource. There is in-depth discussion of key topics regarding adult stem cells, Epigenetics and other topics you need to know. Stop feeling helpless. There is a wealth of information in this book that can help you now.
These methods have helped thousands of people around the world restore vision in diseases that most physicians consider hopeless. This book provides hope and a clear plan of action.