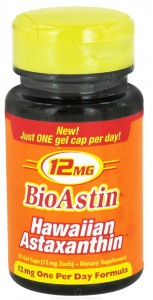 For the past month and a half, I've added a daily dose of  Astaxanthin to my supplement mix on the advice of Dr. Andy Rosenfarb. I've also been dousing my eyes twice a day with the MSM eye drops he supplied me with the hopes that between the two, they will help my central core vision. Dr. Rosenfarb's theory is that the combination of the two may help to clear out the scar tissue/pigment.
I hadn't given it much thought until a couple of days ago, when I pulled out a paperback book and noticed that as long as I had good light, I could read it with NO reading glasses.  This is amazing for me considering that when I first went to see Dr. Rosenfarb last Deceember, my near-sided vision was 20/125 in my right eye, 20/80 in my left eye.
I'd been curious about Astaxanthin even before Dr. Rosenfarb recommended it because I've read that it's the strongest antioxidant around for the eyes.
Here are links to a couple of in-depth articles on its benefits. I'm particularly interested because I know from my last appointment with a retinal specialist  (a year and a half ago) that I had cataracts forming — and this seems to do battle with them.
Here are some benefit highlights:
Astaxanthin is by far the most powerful carotenoid antioxidant when it comes to free radical scavenging: it is 65 times more powerful than vitamin C, 54 times more powerful than beta-carotene, and 14 times more powerful than vitamin E.
Astaxanthin is far more effective than other carotenoids at "singlet oxygen quenching," which is a particular type of oxidation. The damaging effects of sunlight and various organic materials are caused by this less-stable form of oxygen. Astaxanthin is 550 times more powerful than vitamin E and 11 times more powerful than beta-carotene at neutralizing this singlet oxygen.
Astaxanthin crosses the blood-brain barrier AND the blood-retinal barrier (beta-carotene and lycopene do not), which has huge implications for the health of your eyes.
It is soluble in lipids, so it incorporates into cell membranes.
It is a potent UVB absorber.
It reduces DNA damage.
It is a very powerful natural anti-inflammatory.
No adverse reactions have been found for people taking astaxanthin.
It is virtually impossible to obtain the recommended daily amount of astaxanthin from diet alone because there are only two prime sources: microalgae and sea creatures that consume the algae (such as salmon, shellfish, and krill).
For those of you who are interested, here's a list of other supplements that I'm religious about taking:
Zeaxanthin
DHA
Vitamin D
TUDCA (been out of this for a few weeks..but reordering it)
And here's a link to the Astaxanthin I've been purchasing. It's the highest dose I could find.
Happy Weekend!