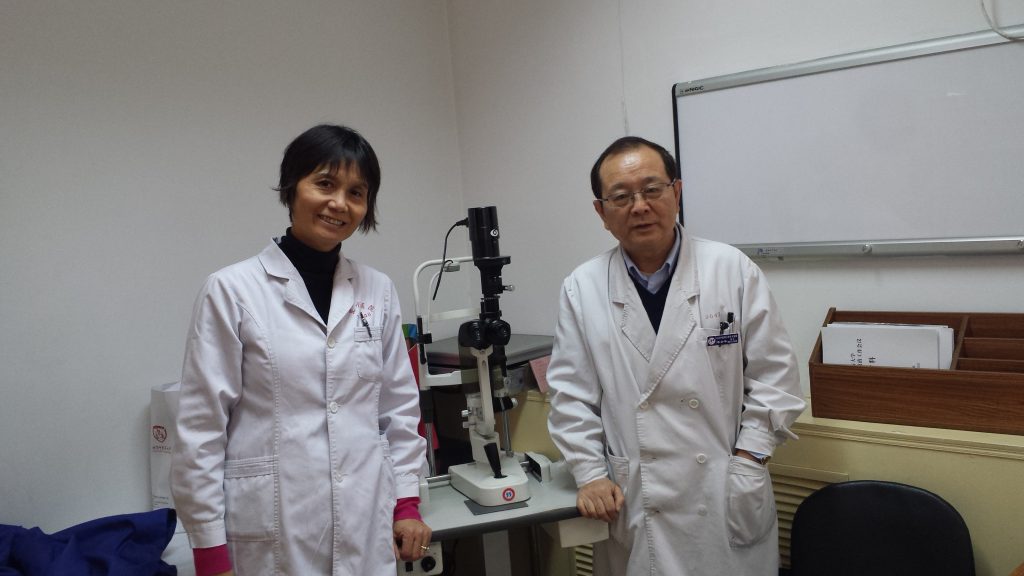 Lately I've been concentrating on healing myself from the inside out—with an emphasis on self-love and healthy lifestyle choices. And Lee Huang, my Seattle acupuncturist, is focused on the same thing.
Lee, who worked as an eye surgeon in China before moving to the U.S. and immersing herself in Traditional Chinese Medicine, is passionate about helping patients suffering from RP, MD, and other serious eye conditions and has been seeking specialized training and answers for the past several years. As part of her ongoing quest to learn everything she can about treating eye diseases from the TCM perspective, Lee recently traveled to China to learn from Dr Wei Qi-ping, a renowned practitioner whose family has been treating RP for four generations. The approach in China is very different from the U.S.. It involves comprehensive inpatient treatment for as long as a month at a time, as well as ongoing herbal injections. All of the herbs are customized specifically to the individual patient, with a focus on addressing the underlying cause of the eye disease.
Lee has always incorporated constitutional acupuncture into her treatment protocol – which includes micro acupuncture and electro acupuncture. But this time around, she increased her focus on my liver (my weak point) and the blood stagnation that is limiting oxygen flow and the removal of toxins— which in turn impacts my body's ability to heal.
Lee told me that the liver, kidney and spleen are all focal points for people dealing with RP. Some of it, says Lee, comes down to genetics. The other comes from environmental factors. And that's where we can intervene.
As a person who needs to focus on strengthening my liver, here's what Lee has to say.
 Reduce Stress. I know this is an ongoing issue for me and I'm continuing to work on it. One thing I've just incorporated is a daily dance to Abba music with my daughter, Hannah. It takes five minutes and when I'm done, I'm happy and the stress I was feeling is gone.
2. Take breaks. Lee recommends that I take power nap breaks during the day to provide more balance. She says I also need to take it easier on myself. For example, if I'm tired after a long day, she says I need to rest rather than force my body into mandatory exercise (though exercise is important for circulation and stress reduction).
3. Diet and Lifestyle Choices. Okay- I already know this, but I continually slip up on the alcohol part (I'm back on track though).
4. Self Love, which incorporates all of the above.
Here are some great foods for the liver:
• Celery
• Tomatoes
• Radishes
• Orange
• Grape ruit
• Green beans
• Cabbage
• Napa cabbage
• Goji berries
• Rose Tea
Here are foods, lifestyle Choics to AVOID
 Fatty foods
• Deep fried foods
• Spicy foods
• Alcohol
• Smoking

Along with these diet and lifestyle recommendations, Lee has customized an herb formula for me that she says should help strengthen my liver (in conjunction with everything I do personally.)
She also stresses the importance of doing daily eye acupressure, and walked me (and Tanya, a fellow RPer who was in for treatment last week), through the key eye acupressure points. (I used to do eye exercises but slacked off and am now back on it.)
Below is a video Lee has made that walks you through the acupressure exercises. It's worth watching and starting them. According to Lee, school children in China do these acupressure points in class every day. She says they are essential to eye health.
Okay – I'm signing off to do my eye acupressure points. And then maybe I'll take a quick power nap.