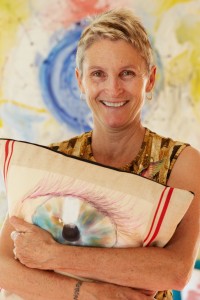 I am a freshly retired film critic, though I seem to be busier than ever! As the mother of two daughters and two stepdaughters – with the added bonus of a lovely husband and three spirited granddaughters – I am never lacking for family activity be it cooking, hiking, biking or traveling the world one inch at a time.
When my eyes were more cooperative, I dug extensively into rousing contact sports like stick and knife fighting, pole dancing and ice hockey. Now I strive to keep mind and body active with more tempered pursuits like Pilates, yoga, reading, writing, film studies and iPad art.
My art is an evocative way for me to channel my visual impairment into the kind of free form expression I yearn to create. Drawing on the iPad opens up new realms of possibility; turning that art into tangible objects like glassware, pillows and witty, oversized prints is remarkably gratifying. See the world #throughmyeyes at Eye Will Artistry.
Retinitis Pigmentosa does not define me, though it is a major fact of my life. The learning curve can be steep but there's wisdom to be gained from its sticky wickets. My mother taught me that attitude is everything and I try to look at the bright side of my impairment – never tapped as the designated driver, a burgeoning collection of stylish shades and hearing as keen as a bat!
As my retinal focus dims my internal focus only strengthens. To life, and the happy and resolute pursuit of healthy sight!