I had a sobering kick in the pants last week when I underwent a visual field test at an eye doctor's office and saw on paper what I've been sensing for the past month or so: that the little amount of central core vision I have remaining—the small window that enables me to see parts of my daughters' faces when I look at them from across the table—has been dimming to the point that I now need bright light to see them.
As those of you who have been following this blog know, I've taken a different path with acupuncture this past year in the name of affordability and accessibility. I'd experienced improvements during my yearlong treatment with Dr. Rosenfarb in New Jersey, but the cross-country trips every three months were taking a serious toll on my marriage. I was also hearing from lots of RP patients out there struggling to hold onto their eyesight who could not afford the travel and treatment expenses coupled with the ongoing time off from work, and I was determined to find a local solution for me and for everyone else out there.
I thought I had found my answer with my local acupuncturist. She's an amazing person and highly skilled acupuncturist who has been focusing on whole body acupuncture with an emphasis on eyes. She even donated extra treatments for me for a few months to help me. It seemed like everything was going well. In fact in my outer periphery, my eyesight is fairly good right now. I now see most everything from the 45-degree mark on. But that stubborn donut of blindness around my central core hasn't budged and the dimming I was sensing is REAL.
Last week, I decided to give a new acupuncturist a try. Lee Huang, who miraculously practices in the Seattle area where I live, worked as an eye doctor in China before moving to the US and has been treating people with vision problems for the past five years by focusing on underlying issues. She recently underwent live micro acupuncture training with eye acupuncturist Lizbeth Ryan, as well as online training and an intensive one-day workshop with Andy Rosenfarb.
Before starting treatment, I had a comprehensive visual field test taken by an independent eye clinic and then had another visual field test after three days (nine acupuncture sessions) of treatment.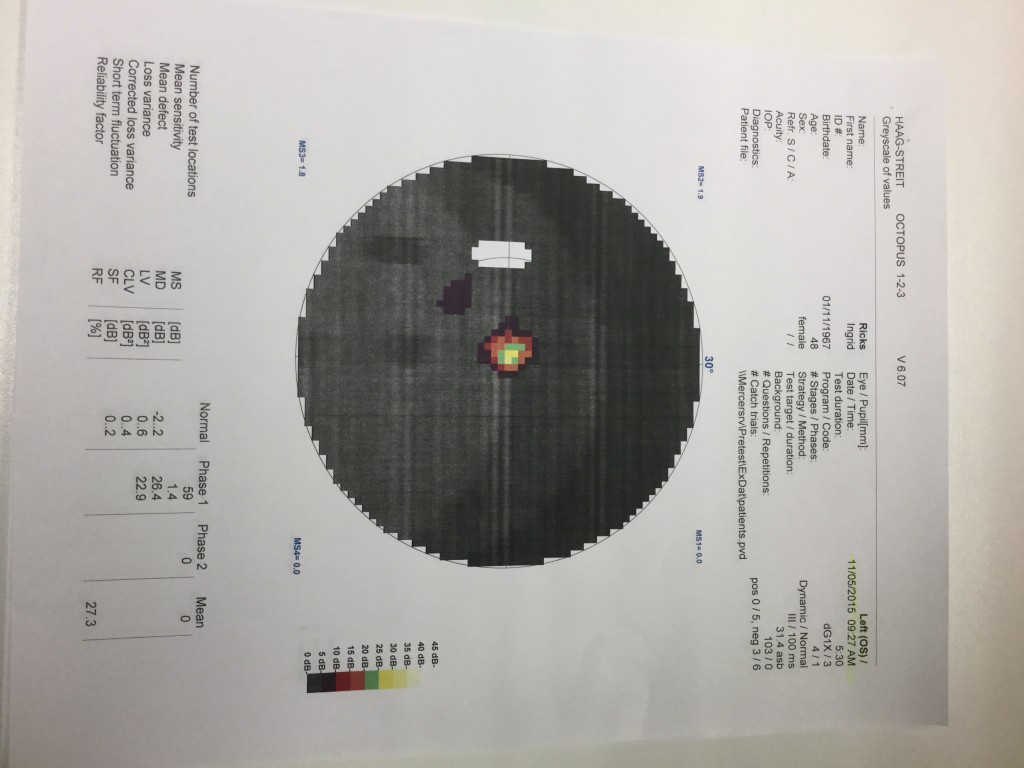 I've posted my Before and After Visual Field tests above.. These tests measure 30 degrees (which is where most of my vision loss has occurred). As you can see, I have very little central vision remaining. But the good news is that the treatment did help in the areas that have dimmed (especially my right eye…though if you look at my left eye, you'll notice a dark spot to the bottom left of the white blind spot that everyone has. That's where I can now see bright lights when I could see nothing before.  I'll write a much more in-depth blog post later this week on all of this. But I needed to share this with all of you today.